BASF seeks a stable formula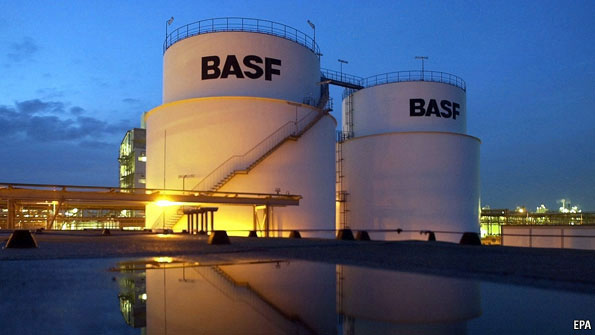 Jun 23rd 2010, 13:55 by The Economist online | BERLIN
WILD gyrations in the level of orders are enough to kill most businesses. In the chemical industry, they are routine. When economic crisis hit in 2008, demand for the basic chemicals used in everything from paints to plastic bags plummeted. Sales in some divisions of BASF, the world's biggest chemical company, fell by almost half in 2009 as both volumes and prices slumped. Even the good times for commodity chemicals tend not to last long, as improving prices trigger capacity-building, which soon leads to a glut.
BASF has weathered these swings better than most. Its size helps: it always has some big plants somewhere that could benefit from a few months of quiet so that maintenance workers can open them up for a good scrubbing. Diversity helps too, since the prices of some chemicals may hold up better than others. And it has become well practised in the art of ruthlessly driving down its costs.
But for all these advantages, BASF also faces some real constraints. One is that as fast as it is growing in developing countries, it still has a huge presence in developed ones where employees are expensive and ageing. More important, perhaps, is that its shareholders expect it to produce good returns on its investment, whereas some competitors, especially state-backed ones, make investment decisions based more on politics than economics: the result is overcapacity, which brings down the returns for all producers.